The Firm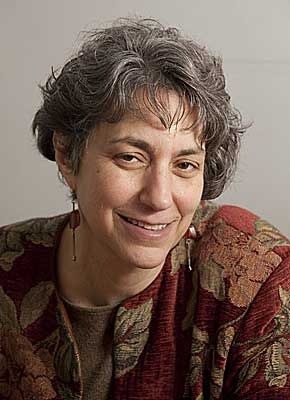 PATTI GLAZER, AIA is the principal of Glazer Architecture. She is registered in North Carolina, South Carolina, Tennessee, Florida, Alabama, and Ohio and is NCARB certified. She received a Master of Architecture degree from Yale University School of Architecture, a Bachelor of Fine Arts degree from the Rhode Island School of Design and a Diploma in Building Construction from Asheville Buncombe Technical College. Committed to sustainability, Patti is a LEED (Leadership in Energy and Environmental Design) Accredited Professional and a member of the US and WNC Green Building Councils. She is a member of the City of Asheville's Economic Development Advisory Committee and is active in downtown and preservation organizations. Known locally in the industry as the "Code Queen" she is a Fulbright Scholar, a U.S. Patent Holder and a 19-time Griffin Award winner for Excellence in Preservation. Having lived in six countries, Patti enjoys travel, diverse cultures and foreign languages and is active in Servas, a non-profit travel and hosting organization. Her ever-growing collection of 600 pairs of earrings and 200 handmade mugs helps support the arts community and contributes to the economy.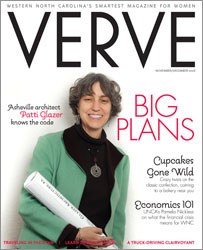 Patti was featured in Verve Magazine (Nov/Dec 2008) in an article entitled "The City that Patti Built" by Jess McCuan, photographed by Rimas Zailskas. "It would be an exaggeration, of course, to say she built the whole city of Asheville. But you'd be amazed at how many prominent Asheville buildings architect Patti Glazer has had a hand in designing, building or refurbishing. She and five employees at downtown Asheville's Glazer Architecture have won 15 Griffin Awards for preserving classic structures like the 1921 Castanea building, now home to Sensibilities Day Spa, Jewels That Dance and other shops; the 1914 WCQS Elk's Home Building; and the Echo Mountain Recording Studio, housed inside a 1928 church. The firm has created commercial buildings for everyone from Asheville Savings Bank to Earth Fare to Habitat for Humanity...." Click here to read the entire article online.


Carolina Home + Garden's Summer 2009 issue featured Patti's mug collection. By Melanie McGee Bianchi with photos by Matt Rose.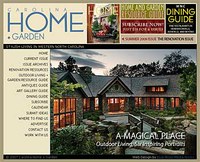 "Even by big-city standards, Patti Glazer is a busy woman. A designer and renovator, for the past 30 years, of some of Asheville's most distinctive buildings, she might be forgiven for getting her coffee on the go.

However, Glazer—the eyes and energy behind the mixed-use villa Lexington Station and the sumptuous recording studio Echo Mountain, among other recent projects—enjoys her morning joe at home. What's more, she's careful to start the day off well by choosing just the right cup in which to pour it. Which has to take a while, since she's got enough of them to last six months without repeating a selection.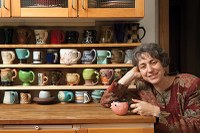 Owning nearly 200 handmade mugs was "never intentional," says the multiple-award-winning architect (although her 600-plus pairs of earrings suggests that her affection for accumulation can't be so easily dismissed). "I guess once I had amassed 60 mugs or so, I realized it could be perceived as a collection." And now that they're there, she fully intends to use them." Read entire article.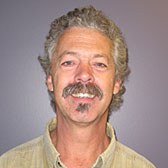 CHRIS ROGERS, AIA is a project architect/designer/manager. He has been practicing architecture in Asheville for over ten years, including five years as principal of CA Rogers Architecture. He received a Professional Architecture Degree from NC State University and a Bachelor of Arts degree in Architecture from University of California Berkeley's School of Environmental Design. Chris has over 20 years' experience in green and sustainable design in residential, commercial and institutional applications. He enjoys the mountains of Western North Carolina but still misses the beautiful Northern California area where he grew up.
RUSS NICHOLSON has practiced arc
hitecture for thirty years and continues to relish in leadership and design. Russ is a native North Carolinian and is licensed in NC, SC, Virginia, and Oregon; he received Undergraduate and Professional degrees in Architecture at the University of North Carolina at Charlotte. Russ has designed and/or managed the completion of 8 Performing Arts Centers over his career. Although most of his work has been accomplished for institutional owners, he also specializes in private sector urban infill housing. All told Russ has completed 6 LEED Gold projects and over one billion dollars of construction value for clients across the country. Russ's outside interests include building homes, fly fishing, and visiting the cities of the world.
JENNY HEIM, AIA, LEED AP BD+C is a registered architect, LEED accredited professional and NCARB certified. She received her Master of Architecture in Sustainable Design from the University of Texas at Austin and her Bachelor of Architecture at Pennsylvania State University. She has over 8 years of experience working on commercial, retail, office, higher education and residential projects, many which have achieved LEED Certification. She worked in Austin before relocating to Asheville at the end of 2013. When not remodeling her house with her husband, she loves exploring the hiking trails of Western North Carolina.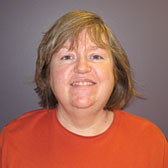 JOYCE GILMAN has been the firm's office administrator since 2000. She has a Bachelor of Arts degree in Literature from UNC-Asheville and an Applied Associate of Science degree in the Professional Crafts Program in Wood from Haywood Community College. She has over 20 years' experience in small business administration working for both commercial and non-profit enterprises. Joyce is currently studying garment construction and trying to live up to the expectations of her dogs.
Document Actions